Exporting dashboards to PDF or images¶
Dashboards can be exported to PDF or image (PNG, JPG) files in order to propagate information inside your organization more easily.
Dashboard exports can be:
Created and downloaded manually from the dashboard interface
Created automatically and sent by mail using the "mail reporters" mechanism in a scenario
Created automatically and stored in a managed folder using a dedicated scenario step
The dashboards export feature must be setup prior to being usable.
The dashboards export feature does not work on Centos 6 and AmazonLinux
Internet access is required to install additional dependencies required by the dashboards export feature
The account running DSS needs write access to the DSS installation directory at install time;
The dashboard export feature uses an embedded Chrome browser to perform the actual snapshotting. When you install the feature, an up-to-date Chrome browser is downloaded. We recommend that you regularly perform again the install procedure in order to fetch latest updates, which may be required since Chrome regularly releases security updates.
Security updates of the embedded Chrome browser are not the responsibility of Dataiku.
The embedded Chrome browser is in the resources/dashboard-exports/node_modules folder of the DSS installation directory. In case of doubt, you can remove this folder, wihch will prevent the feature from working.
Go to the DSS data dir

Stop DSS

Run the installation script

./bin/dssadmin install-dashboard-export


If prompted to, run the dependencies installation script as root

Start DSS
Test the feature by going to a dashboard, in view mode, and clicking Actions > Export
If you get an error about sandbox mode, it means that the embedded Chrome browser could not start in the most secure "sandbox" mode
The sandbox mode of Chrome runs using a feature of the Linux kernel known as user process namespaces. This feature is not always enabled, you may need to enable it.
Run the following command:
sysctl user.max_user_namespaces

If the result is 0, run the following command as root:
sysctl user.max_user_namespaces

=

1000



Then retry exporting the dashboard
If you are not able to run the previous, or if it fails (which may be possible if you have a too old kernel), you can disable the additional sandbox protection. The sandbox is a "second level" of security to mitigate exploitation possibilities in case of a security bug in Chrome.
Edit the

config/dip.properties

file
Add the following line:

dku.exports.chrome.sandbox=false

Restart DSS
In dashboard tab, there are three ways to download it directly:
Inside dashboard menu in edit and view mode.

After selecting a dashboard in the list, go to actions tab.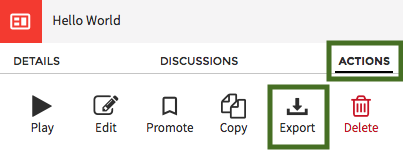 Inside dashboard menu in list mode. With this one, you can select multiple dashboard exports and export it in one click. Pretty neat, right?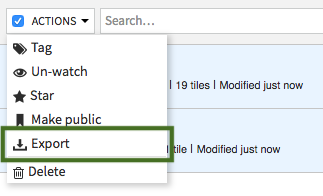 In a scenario, there are two ways to create dashboard exports:
Create a "dashboard export" step that allows you to store an export in a local managed folder.

With a mail reporter and a valid mail channel, you can select a "dashboard export" attachment. The dashboard will be attached to the mail

Files generated are fully customizable so users are fully in control over what they obtain. There are several parameters that will enable it:
file type determine file extension type.
export format determine file dimensions. If a standard format (A4 or US Letter) is chosen, file dimensions will be calculated based on your screen resolution and the chosen orientation (Landscape or Portrait). On the contrary, Custom format allow to set custom width and height.