Evaluating DSS models¶
To evaluate a DSS model, you must create an Evaluation recipe.
An Evaluation recipe takes as inputs:
an evaluation dataset

a model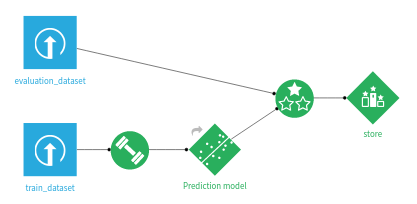 An Evaluation Recipe can have up to three outputs:
an Evaluation Store, containing the main Model Evaluation and all associated result screens

an output dataset, containing the input features, prediction and correctness of prediction for each record

a metrics dataset, containing just the performance metrics for this evaluation (i.e. it's a subset of the Evaluation Store)
Any combination of those three outputs is valid.
Each time the evaluation recipe runs, a new Model Evaluation is added into the Evaluation Store.