Install a virtual machine¶
Dataiku provides a pre-built virtual machine for Virtualbox and VMWare player. This allows you to install DSS if you only have access to a Windows machine.
Installation instructions and details are available here: https://www.dataiku.com/dss/trynow/virtualbox/ - please read carefully the following prerequisites.
You need to have a 64 bits CPU, with a 64 bits OS. The virtual machine will not start without.
On Windows, you can check that you have a 64 bits CPU and a 64 bits OS by going to the System information window.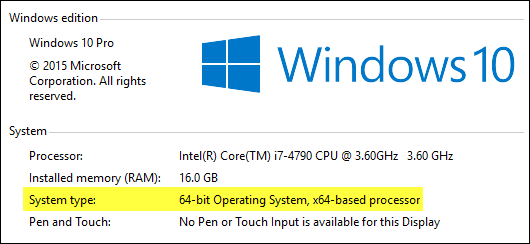 Hardware virtualization is mandatory for the DSS virtual machine. This is generally called "AMD-V" or "VT-x".
All 64 bits CPU support hardware virtualization, but it is often disabled in the BIOS/UEFI of the machines.
If hardware virtualization is missing, the virtual machine will not start and emit messages like VT-x is not available (VERR_VMX_NO_VMX). or VT-x is disabled in the BIOS for all CPU modes (VERR_VMX_MSR_ALL_VMX_DISABLED).
The following links provide some help on how to enable hardware virtualization:
It is strongly recommended that you have at least 8 GB of RAM to run the DSS virtual machine.
The DSS virtual machine is preconfigured to use 4 GB of memory. If you only have 4 or 6 GB of memory, your host might become unresponsive when starting the DSS virtual machine. If you have less than 8 GB of RAM, we strongly recommend that you lower the amount of memory allocated to the DSS virtual machine before starting it. You can go as low as 2 GB of memory for the DSS virtual machine.
The DSS virtual machine is provided as a .ova file that can be opened with Virtualbox or VMWare.
If you use VMWare Player, you'll encounter a warning while importing the OVA file. You can ignore it and select "Retry".
Step by step instructions are available at https://www.dataiku.com/dss/trynow/virtualbox/
When the virtual machine starts up, it starts by displaying a "DSS is starting" message. When startup is complete, the virtual machine displays a connection banner like this one: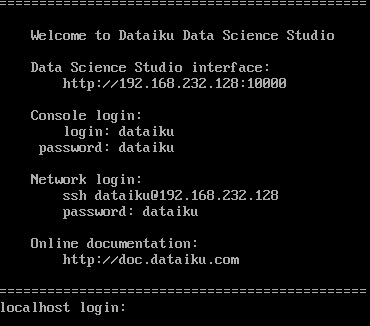 You need to open your browser on the URL referenced as "Data Science Studio interface"