Reference architecture: managed compute on EKS with Glue and Athena¶
Warning
Use this reference already if you are not using a Dataiku Cloud Stacks for AWS installation. When using a Dataiku Cloud Stacks for AWS installation, these steps are already taken care of.
Overview¶
This architecture document explains how to deploy:
DSS running on an EC2 machine

Computation (Python and R recipes, Python and R notebooks, in-memory visual ML, visual Spark recipes, coding Spark recipes, Spark notebooks) running over dynamically-spawned EKS clusters

Data assets produced by DSS synced to the Glue metastore catalog

Ability to use Athena as engine for running visual recipes, SQL notebooks and charts

Security handled by multiple sets of AWS connection credentials
For information on calculating costs of AWS services, please see the AWS pricing documentation here: https://aws.amazon.com/pricing/.
Architecture diagram¶
DSS software deployed to EC2 instances inside customer subscription

DSS uses Glue as a metastore, and Athena for interactive SQL queries, against data stored in customers's own S3*

DSS uses EKS for containerized Python, R and Spark data processing and Machine Learning, as well as API service deployment

DSS uses EMR as a Data Lake for in-cluster Hive and Spark processing

DSS uses Redshift for in-database SQL processing

DSS integrates with SageMaker, Rekognition ad Comprehend ML & AI services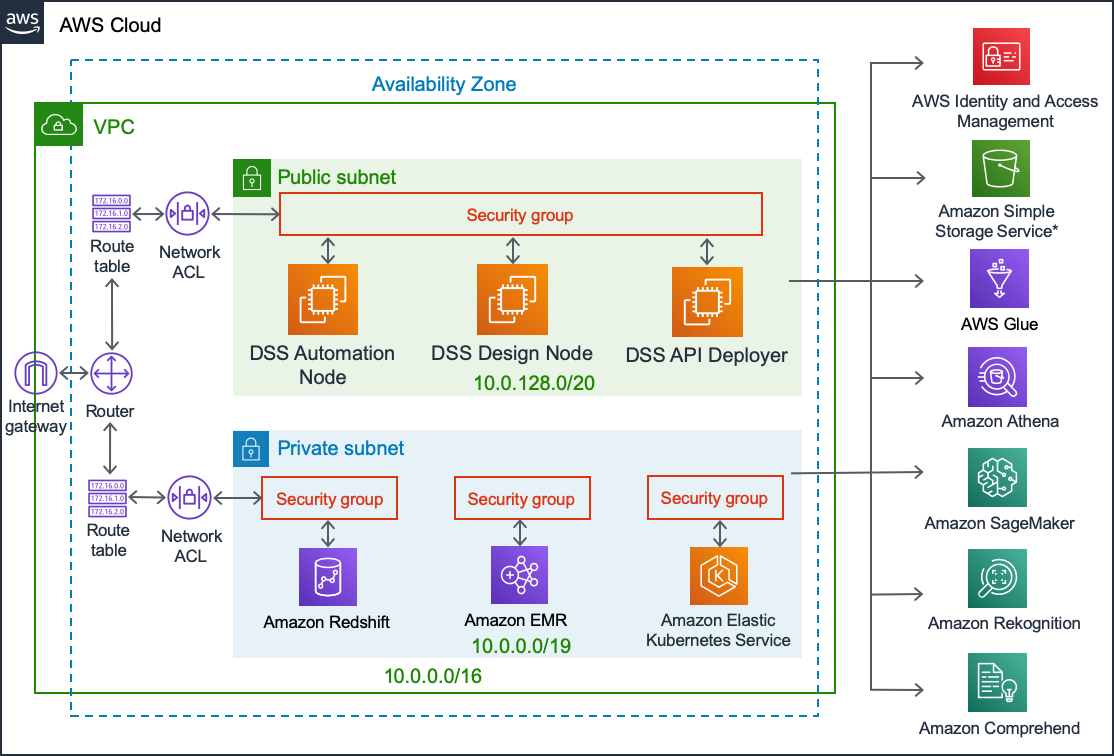 Security¶
The dssuser needs to have an AWS keypair installed on the EC2 machine in order to manage EKS clusters. The AWS keypair needs all associated permissions to interact with EKS.
This AWS keypair will not be accessible to DSS users.
End-users use dedicated AWS keypairs to access S3 data.
For information on IAM please see the AWS documentation at https://aws.amazon.com/iam/faqs/